Review of Paddy Power Bookmakers
Paddy Power Bookmakers - Money Back Specials
Paddy Power is the biggest bookkeeping service in Ireland with their recent Internet ventures having branched services out to include Great Britain and parts of Europe. Established in 1988, Paddy Power has been growing strong ever since with steadily improving odds and better tailored service for its users.
Paddy Power was founded in 1988 after the merger of three of the largest Irish high street bookmakers and now enjoy 187 betting shops in Ireland and 58 betting shops in the United Kingdom. Paddy Power are renowned for the Money Back Specials that provide you, the customer with money back deals for example if your horse falls in the Grand National.

The Findabet Summary on Paddy Power Bookmakers
The layout of the site is excellent and immediately demonstrates that Paddy Power has a lot of features to explore. News and specials are listed on the main column of the homepage and games are placed to the left. The right-hand side is full of tutorials and introductory information which makes it handy for anyone fresh to Internet betting or sports gambling in general. It offers a video introduction to the site which is a great way to ease players into the practice without having to resort to overwhelming amounts of text like many competitors use. Aside from this punters are also given the option to access the wide range of Paddy Power sister clients (Poker, Casino and Instant Games) with their account. Everything here can be easily accessed from a bar on the top of the page.
Paddy Power offers a wide range of games and their European user base hasn't meant the elimination of international events. Aside from well developed rugby and football coverage, Paddy also runs odds on ice hockey, basketball and baseball among others. There are a good range of bonuses as well including a wealth of money-back specials and hard luck paybacks (for occurrences such as fallen horses during races or red cards during football matches). Paddy Power also occasionally runs atypical event options like being able to bet on winners of television shows such as Big Brother and this is a feature which adds a lot of colour and excitement to the usual proceedings.
Regional support is pretty much limited to a European demographic but language and currency options seem to be opening up as time goes on. Currently the site can only be displayed in English and Spanish but with the recent increase in continental business users can expect Paddy Power to have extended service in the near future. Banking is handled well and any activities necessary are fast, efficient and reliable. The development toward this has meant that the site offers fantastic speed and quality in financial matters.
The customer service itself is exceptional which shows why punters who come to Paddy Power are very likely to stay. Aside from the aforementioned video tutorials there is a great help guide along with live assistance options if the FAQ can't resolve issues. Security is kept up to date as well so betters need not worry about having their gambling money in the hands of Paddy Power.
For European punters in need of a good, digital venue for their bets, Paddy Power is quickly becoming a great choice. Although linguistic support is currently a little below par the wide range of events and great reward system means that this may be one of the best options available for British sports betters. With a little bit more time on development in the future and a continued path toward outstanding service Paddy Power is set to be a truly exceptional online bookkeeper.
Playing at Paddy Power
Paddy Power is a web based bookmakers. There is no software to download, you log in through the PaddyPower.com website and place your bets online.
We have tested and used Paddy Power in Internet Explorer, FireFox, Safari and Camino so we are happy to class it as multi platform supporting Microsoft Windows, Mac OS X, and Linux operating systems.
Here are some of the sports and other events that you can bet on at Paddy Power.
Horse Racing
Greyhound Racing
Football
Rugby Union
Golf
Financials
Politics
Cycling
Tennis
Cricket
Motor Racing
Lotteries
GAA Sports
Rugby League
Darts
Snooker
American Football
Baseball
Basketball
Boxing
Handball
Novelty Bets
Athletics
Aussie Rules
UFC
Cycling
Poker
Hockey
Beach Volleyball
Chess
Volleyball
Futsal
Paddy Power Customer Support
Paddy Power have a 24 hour customer support telephone number which is freephone in the UK and also available worldwide.
As well as the telephone number, there is an email address that you can use to email a trained customer support representative from Paddy Power. The email option is handy if you need to send any digital files or screenshots to the customer support representative.
Deposit / Withdrawal Options at Paddy Power
The following deposit and withdrawal options are avalable for the players at Paddy Power.
Mastercard
Visa
Maestro
Switch
Solo
NETeller
Moneybookers
Bank Wire Transfer
You can also walk into any high street Paddy Power betting shop with your account details and pay money directly into your Internet account with any of the allowed payment details.
Paddy Power Carlton Palmer TV Advert
Paddy Power Richard Dunwoody Horse in the Kitchen TV Advert
Screenshots of the Paddy Power Online Bookmakers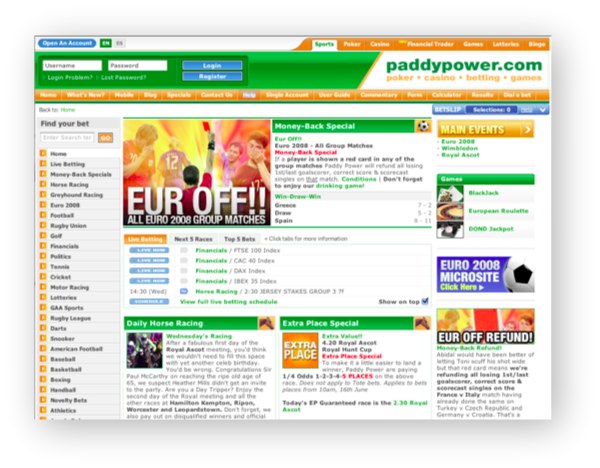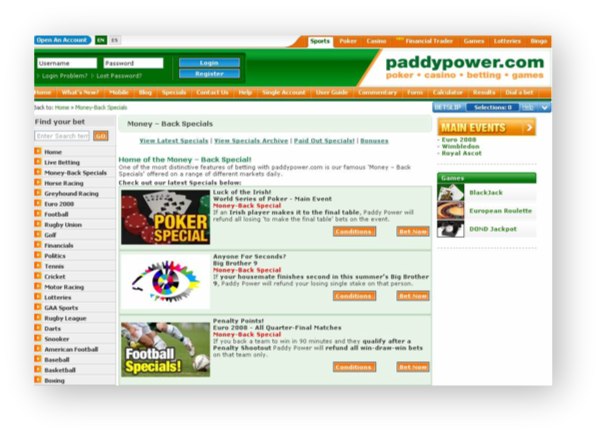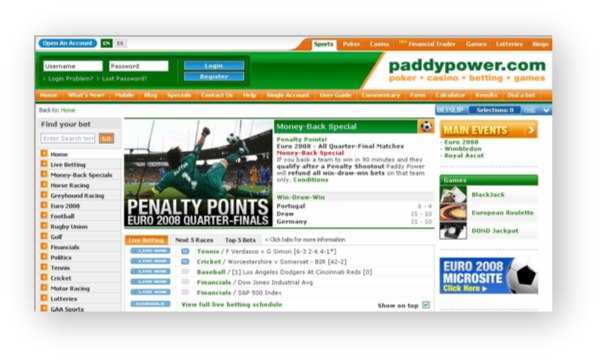 Paddy Power Contact Details
UK Support Telephone - 0800 0565 275
International Support Telephone - +353 1 404 0120
Player Support Email - [email protected]