Review of Crown Bingo
Online Bingo With Crown at Crown Bingo
Crown Bingo is one of the largest UK-based internet bingo sites and offers good reason for users to get on board. Since their debut, Crown has been steadily gaining traffic and devotion due to their impressive service and fan-pleasing support.
The Findabet Summary on Crown Bingo
Crown Bingo offers a good variety of bingo games but nothing too special or out of the ordinary. There is a range of bets and lines which players can purchase from 10p to £1 tickets. Standard styles of bingo calling are available and users accustomed to UK bingo sites should find the fare matching their level of expectations. What becomes the most lacking over time is the absence of any really stand-out promotions or loyalty incentives. Whereas many sites are facing industry competition by extravagant prizes and other rewards Crown Bingo has instead concentrated more on providing a stable foundation to their service. There is a decent VIP program and a sufficient tournament mode but the prizes all lack the splendor of other bingo clients.
Crown Bingo's sign-up bonus is a hearty 100% match for initial deposits up to £250 but instead of being automatically credited, users have to email the support staff to claim their reward. Just the same, the weekly draws, quiz game payouts and referral system should be enough for the die-hard bingo fan to stay content, especially considering that the heart of Crown Bingo is so superbly imagined.
The aforementioned software at Crown Bingo is the most impressive aspect of the site. From the layout of the page itself down to the tickets, chat windows and called numbers, everything at Crown Bingo looks fantastic. The site is one of the few internet bingo services to tab multiple tickets rather than display them all at once as well, a feature which can probably be expected to become an industry standard after seeing how convenient it is to navigate and witnessing the much simpler touch clean up the player screen.
Community aspects are not ignored at Crown Bingo but they are not given as much emphasis as in some places. Much in the same manner as promotions and bonuses are handled, Crown Bingo seems to see chat and networking features as something of an extra. The chat games usually have some of the lowest population however, so players drawn to this style of bingo game will not only make a few friends but also greatly increase their chances of winning the jackpot. The chat moderators seem like a good staff and their profiles are visible for curious players however this is one of the few truly community oriented concessions given at the site.
Crown Bingo maintains excellent security and user support with chat moderators who are almost always present during games to answer questions and provide any other form of help which players require. Customer service is prompt and staffed well enough to handle increasing traffic to the site and Crown matches industry standards with their attention to player safety and assistance.
Overall, Crown Bingo is one of the more impressive internet bingo sites to surface in recent years and its success in the competitive UK market is no accident. Aside from the fairly shallow bonus and promotional offerings, users looking for a site with some of the best software and helpful CMs will find Crown very appealing. In a business where advertising and giveaways usually form the substance of a company, Crown Bingo stands out as a site which truly puts the game of bingo itself as the priority for their service.
Crown Bingo Software
Crown Bingo is powered by Bingo Software from Virtue Fusion, a UK based software company. Crown Bingo runs a web based application and the only requirement is that at least Flash Version 8 be installed in the browser of your choice. This means that Crown Bingo will work fine in browsers such as Microsoft Internet Explorer, Firefox, and Safari.
We have also tested Crown Bingo in Windows, Mac OS X, and Linux and we are happy to say that it works across all platforms.
Bingo Player Support at Crown Bingo
Crown Bingo provide a Live Chat support facility via their website or a customer support email address where you can email them for support. YOu can also fill in a contact me form at Crown Bingo where a membher of their support team will get back in contact with you to answer any issues that you may have.
Deposit / Withdrawal Options at Crown Bingo
The following deposit and withdrawal options are avalable at Crown Bingo.
Mastercard
Visa
Maestro
Switch
Solo
Electron
FirePay
Neteller
Crown Bingo Screenshots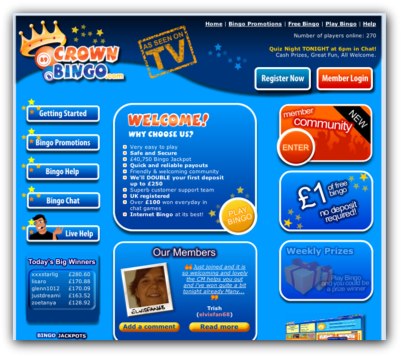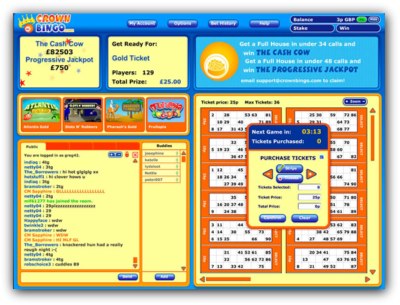 Crown Bingo Contact Details
UK Support email - [email protected]
Postal Address
Suite 10
John Buddle Work Village
Buddle Road
Newcastle-upon-Tyne
NE4 8AW