/********************************************************************************/ // DO NOT EDIT THIS FILE AS IT MAY GET OVERWRITTEN BY UPDATES /********************************************************************************/ $retrievalMethod = "1"; $installID = "080512084841"; $timeOut = 5; $version = "1.0"; $fpdUpdateOnly = "Y"; /********************************************************************************/ // Default installation directory /********************************************************************************/ $parentDirectory = "affCAFF"; /********************************************************************************/ // Default RSS installation Directory. //********************************************************************************/ $rssDirectory = "acRSS"; /********************************************************************************/ // Default Templates installation Directory /********************************************************************************/ $tplDirectory = "acTemplates"; /********************************************************************************/ // Your links are defined in the file "acLinks.inc" by default. /********************************************************************************/ $linksFile = "acLinks.inc"; /********************************************************************************/ // Parent Site Details. /********************************************************************************/ $parentSite = "http://www.affcaff.com"; $parentSiteDir = "webmasters/install"; $parentSiteDataDir = "rss"; /********************************************************************************/ // Language of Installation /********************************************************************************/ $language = "en"; ?> /********************************************************************************/ // These parameters can be changed by you, however this MUST be done via the // affCAFF Manager script, not manually. /********************************************************************************/ /********************************************************************************/ // Enable Advanced Stats Tracking. /********************************************************************************/ $advStatsTracking = "Y"; //Advanced Stats Tracking// [Y or N. Participation grants you access to communal statistics. See the Online Manual.] /********************************************************************************/ // Define a default message if there are no items in the feed. Change if you wish. /********************************************************************************/ $noItemsMessage = "No promotions currently downloaded"; //Message If No Items// [Message displayed to user when no items present in the data stream] $reverseSortOrder = "Y"; //Show Latest Items First// [Y or N] /********************************************************************************/ // Each item Title can link out if you so wish. Your links are defined in the file // "acLinks.inc" by default, but you can use the following attributes to change the // behaviour of each link if you wish to do so. (see acReadme.txt) /********************************************************************************/ $linkTitles = "Y"; //Headlines To Link Out// [Y or N - Choose whether Headlines use your affiliate links or not.] $linkTarget = "_blank"; //Link Window Target// [Target window for links. Set to _blank (default setting), _self, _top, or leave empty.] $linkClass = "acLink"; //Default CSS Class// [acLink, or define your own CSS class. Optional.] /********************************************************************************/ // The following default files were installed with your installation. You can edit // them, but if you change the filenames, make sure the new names are entered below /********************************************************************************/ $defaultTemplate = "headlines_and_descriptions.inc"; //Default Template// [Template file. See Creating Display Templates in the Online Manual.] $defaultStreamID = "0000000000"; //Default Stream ID// [Stream ID to use if a stream is unavailable. Use any ID from the Data Generator page.] /********************************************************************************/ // The following setting acts as an override for the maximum number of items to show // from an incoming feed. This can be over-ridden in each of your webpages by setting // the $params[maxitems] parameter (ie: $params[maxitems] = 10;) /********************************************************************************/ $showMaxItems = "10"; //Max Items To Display// [Default value from 1 - 10. Can be overridden on each stream in Data Generator.] /********************************************************************************/ // Enable Automated updates of properties and functionality. /********************************************************************************/ $autoUpdates = "Y"; //Enable Automated Updating// [Y or N. Turning this off will prevent properties from updating automatically.] /********************************************************************************/ // The following setting replaces the user-triggered retrieval of data streams with // a more efficient method using CRON, however it requires manual setup. Please refer // to the Online Manual "Advanced Data Generation" page. /********************************************************************************/ $cronRetrieval = "N"; //Retrieve Data With CRON// [CARE: Read the Advanced Data Generation section of the Online Manual before changing] ?>
Review of the Full Tilt Poker Room
Full Tilt Poker - Play Where The Pro's Play!
Full Tilt Poker is a service designed for and meant to cater toward the very best and most talented players of the poker world. With professional members including Phil Ivey and Allen Cunningham it's clear that Full Tilt Poker has the support of upper echelon players but what is most impressive is that the site manages not to alienate newcomers in the process.
Latest Offers from Full Tilt Poker
The Findabet Summary on Full Tilt Poker
The real draw of Full Tilt Poker is the size of bets and fierce competition offered for players of ample experience and with the pocketbooks to finance high-stakes tables. Although the site does do a commendable job of providing play for those just jumping into the game of poker it is fairly clear to see that Full Tilt Poker is meant for poker players who are serious about the practice. The poker tournaments offered via the site are always enormous, having the history of being some of the largest available since Full Tilt's 2004 founding and it's not unusual for Team Full Tilt's Poker professionals to appear at the tables.
Aside from the financial incentives of these games the site also offers a good deal of events which allow players to vie for entry into the World Series of Poker and otherwise gain attention as a solid poker contender if they're quickly climbing the ranks. The standard loyalty programs are in place at Full Tilt Poker as well and offer the exchange of frequent-player points for the company's merchandise along with other typical incentives. There are smaller games provided for players who are just starting out and Full Tilt Poker does make a good effort toward inexperienced gamblers. Tutorials and FAQs regarding strategy and basic guidelines are all presented on the site in an effort to prevent skewing the demographic too far in favour of skilled members.
The lack of a fully online mode is a bit of a drawback considering how many other Internet poker sites (and even casinos) allow for games to be both downloaded and streamed from the site itself rather than forcing the latter option. Full Tilt Poker requires the free software to be run from the player's computer which means that interested gamblers are going to have to set-up and install the client just to get a sample of how the site stacks up.
Luckily most of those who take the plunge into the Full Tilt Poker software aren't likely to come away disappointed. The graphics and options of the table are among the best available within the world of online poker and there are even a few extra features included which aren't found on many other sites.
Since the action was designed with serious players in mind, multi-table viewing and data collection were obviously given their share of attention during development. There are convenient and easily found options for taking notes on other players as well as the ability to set up automatic tournament and ring-game information to Poker Tracker. The software also runs on Mac computers which is a bonus for this often ignored segment of operating systems.
Security and support are excellent at Full Tilt Poker which is essential given the elite clientele that the service seeks to provide a poker destination for. Encryption and help software are top of the line and fully capable of ensuring that the site's members have quick answers to their questions and safe play.
Full Tilt Poker ultimately comes away as an online poker room that does it's best to cover a wide range of skill sets but will perhaps always be known as the premier destination for high-stakes players. Although it is not a bad choice for anyone seeking out a solid online poker service Full Tilt Poker is best suited for betters poker players who want to take on the big leagues.
Full Tilt Poker Software
Full Tilt Poker software is of a high quality as you would expect from such a leading Poker provider as Full Tilt Poker. There any numerous configuration options that are unique to the Full Tilt Poker software that aid the game playing
Full Tilt Poker is a download only client but it does offer a download client for both Windows and MAC OSX. So, the ever growing Mac user base can sign up and play at Full Tilt Poker without any software issues or having to run Full Tilt Poker on a virtual Windows machine.
We have tested both the Windows and Mac OS X versions of the Full Tilt Poker software and can report that they are both very responsive and look very professional, all adding to the game experience at Full Tilt Poker.
Poker Player Support at Full Tilt Poker
Full Tilt Poker offer 24/7 customer support for all aspects of support that you may require. One thing that they do not offer is telephone support, but you can email them at [email protected] and they respond very fast. We put this to the test here at Findabet.co.k and we got an answer to our issue within 20 minutes. There is also the facility to do onlice chat within the Poker Client, direct to a support representatice from Full Tilt Poker.
Deposit / Withdrawal Options at Full Tilt Poker
The following deposit and withdrawal options are avalable at Full Tilt Poker.
Credit Cards - VISA, MasterCard
Debit Cards - Maestro, Delta, Switch, Solo
Click2Pay
PaySafe Card
Click and Buy
Moneybookers
NETeller
Bank Wire Transfer
Full Tilt Poker Screenshots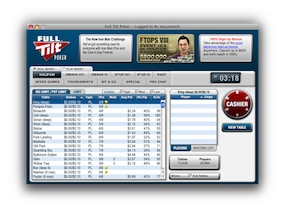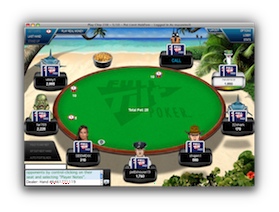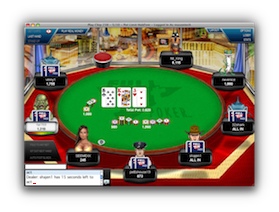 Full Tilt Poker Contact Details
Player Support Email -
[email protected]