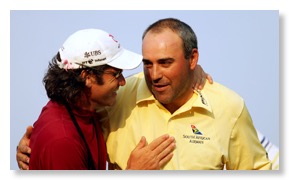 Congratulations to Angel Cabrera on his victory at Oakmont in the US Open Golf.
The 37-year-old Cabrera was forced to play a cruel game of wait-and-see after posting a 1-under-par 69, which made him the only player in the field to post two sub-par rounds all week and led to his eventual winning total of 5-over-par 285. Cabrera's wait was made exceptionally uncomfortable because after 2003 U.S. Open champion Jim Furyk faltered with a bogey at the 17th hole, the only player left that could catch him was the one player no one wants to be chased by -- 12-time major champ and world No.
...Life is good for Cabrera right now, a three-time winner on the European Tour, whose previous best major championship finish was a tie for fourth at the 1999 British Open -- which coincidentally was played at Carnoustie, the same course that will host the 2007 British Open in five weeks.
...Woods was looking for his first come-from-behind win in a major, but instead had to settle for the fourth runner-up/co-runner-up finish in majors of his career, including the second time in 2007.
...Australia's Aaron Baddeley had a two-shot lead after 54 holes, but saw it disappear after just one hole in the final round with a triple bogey to Woods' par at No.... The three-shot swing put an end to Baddeley, who tied for 13th after his final-round 10-over-par 80 -- his worst round of the week by eight shots.
...Just because Badds made 7 on the first hole, we still have 17 more to go; it's not like they're handing out the trophy on the first green," Woods said.
..."Considering that they softened the golf course up for us and we still shot 5 over par as a winning score, that shows you how difficult this golf course really is.
...Leading into the tournament, the talk surrounding this U.S. Open had less to do with Phil Mickelson's debacle on the 72nd hole at Winged Foot in 2006 and more to due with the left wrist he injured while practicing at brutal Oakmont a couple of weeks before the Open.
...The 10-over 148 total required to make the cut turned out to be the third-highest in relation to par since World War II, tying the 10-over 154 cut line in 1972 at Pebble Beach Golf Links.
..."You should get penalized for missing a shot, but I don't know if it should be as black and white as it is," Ogilvy said, obviously frustrated after his round on Sunday.
...While the U.S. Open didn't end with the best player in the world -- Woods -- taking home his third title, Cabrera's victory made him the third consecutive first-time major winner at the U.S. Open, joining New Zealand's Michael Campbell at Pinehurst in 2005 and Ogilvy last year at Winged Foot.