29/10/11 15:20
Paddy Power, one of the internet's most popular gaming networks, has just given its fans a new reason to log onto their favourite service: a software overhaul that looks to improve on the casino site's gaming line-up and usability. The Paddy Power re-launch makes use of software developer Playtech's library of titles and proven talent in creating new online games.

The site improvements, now available for Paddy Power members to try out for themselves, were launched this week as part of a site-wide makeover. Playtech's technology has updated the network's range of casino titles (including new table and card games and slots) and introduces branded content across the sites as well. Paddy Poker's Cristopher Coyne and Denise Dunne told press that "Playtech was chosen following a rigorous selection process" and that it believes the new software "will significantly enhance our online offering."

Playtech's work with Paddy Power is sure to make the site's range of betting and gaming options easier — and more enjoyable — to use than ever before. Combined with its announcement of a month-long Points Race promotion (which will award $10,000 and entry to the iPoker Online Poker Series), at its poker site, Paddy Power members are sure to be delighted with the new additions hitting the network this October.
02/11/10 16:02
Successful online bookkeeper and gaming platform, Paddy Power, is looking to provide a convenient new way for iPad owners to enjoy their site. With the addition of iPad tablet support, Paddy Power hopes to make it easier than ever before for its site members to manage their accounts and place or alter bets while on the go.

The new Paddy Power iPad App was developed for the gaming giant by Sweden's Mobenga, a mobile cell phone game and content developer. This latest release is the third mobile support option released by Paddy Power in recent months, the iPad App following software that was made available for the iPhone/iPod Touch and Android operating systems. Like its other, extremely well-received mobile releases, the Paddy Power iPad App allows users to perform account maintenance and betting tasks like opening an account, withdrawing or depositing funds and, of course, placing multiple wagers on upcoming events.

Paddy Power continues to lead the way for punters that prefer to have access to their accounts while on the go. With the release of its iPad App, the online bookkeeper has firmly established itself as the gaming corporation with the widest variety of software support. Paddy Power members who own an iPad can try out the new service for themselves now by heading to Apple's App Store and downloading the program.
22/05/09 22:59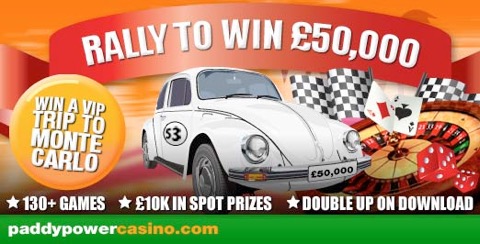 Rally to Win £50,000!
Thursday 21st May - Saturday 30th May
Play any of the
Paddy Casino
130+ games on either Instant or Download Casino and every stake you make will contribute to your overall tally!
Everyone's in with a chance to win some hard cash prizes:
Be the highest cumulative staker to win
£20,000
Be in the top 2-20 players to win the remaining
£30,000
Earn double stake points
Win
£1,000
during bonus cash prize days
Be the biggest daily loser and win
£1,000
Be the player with the most single bets (of any amount!) to win a trip to Monte Carlo!
What are you waiting for...?